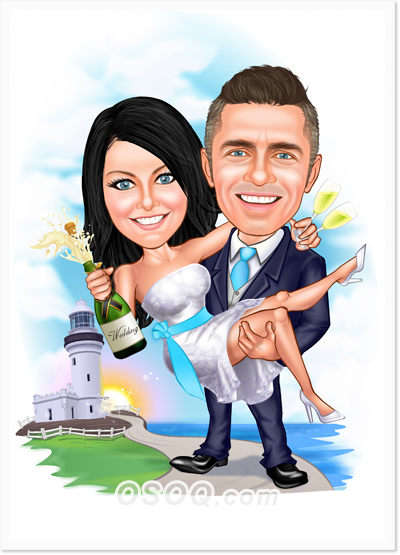 "
Wedding Caricatures

Wedding & Proposal Caricature drawing templates contain: Groom and bride, wedding dress, marriage proposal, diamond ring, wedding ceremony, wedding cake, wedding dance, blessedness, amativeness, engagement, enchantment, prison love, wedding caricatures, the celebration of a marriage, pink rose, music dancing, happy wedding party, Tardis police box, time space conversion, church bells, wedding cake, popping champagne, happy ceremony, seaside proposal, the key of love and happiness, a surprising ring, beautiful garden celebration, romantic proposal, the oath of the sea, fantasy forest... For your wedding or proposal caricatures, our designers will draw it from your photos.


View Newest Designs »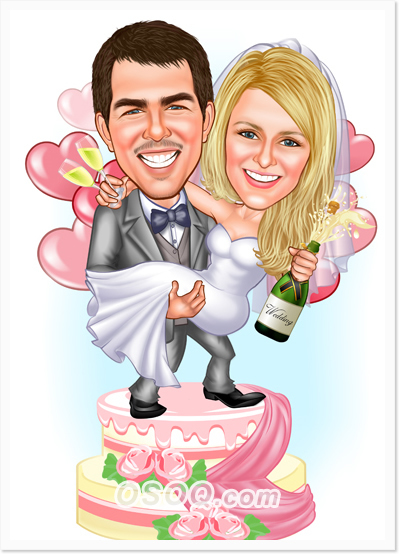 Wedding CakesThe groom is holding the bride at a huge cake. The bride holds a champagne and the wine glasses in her hands. There's a lot of love hearts coming out behind them.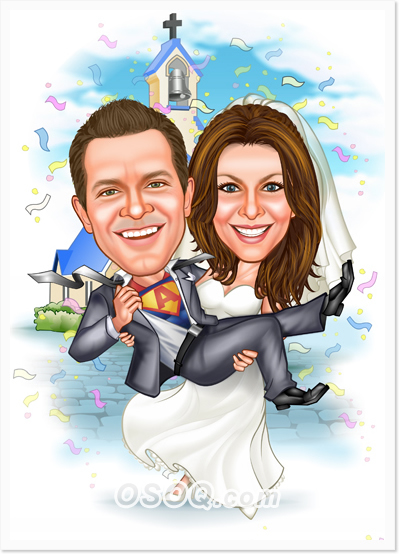 Church BellsWhen the church bell is ringing, the bridegroom is pulling open his clothes in the arms of the bride to reveal his superhero's underwear.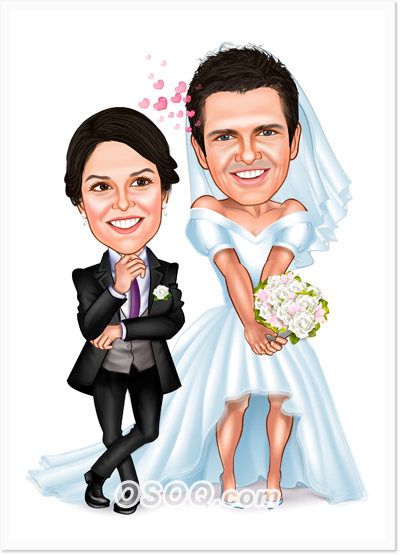 Bride And Groom CaricaturesThe bride and groom swap their costumes. The bridegroom is shy in the bride wedding dress.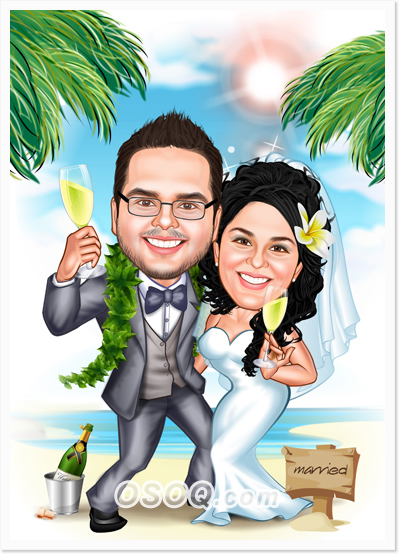 Beach Wedding PartyThe couple are having a party on the sunny beach to celebrate their wedding.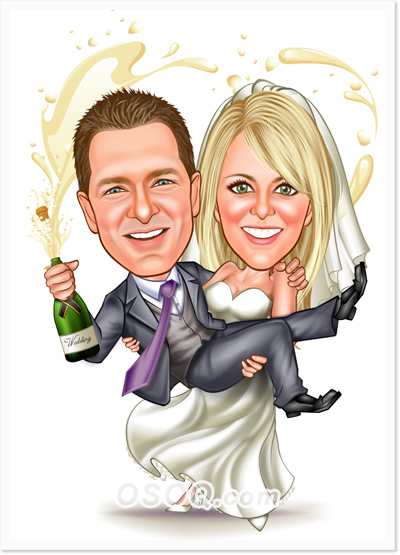 Popping ChampagneThe groom is opening a bottle of champagne in his wife's arms to celebrate the wedding.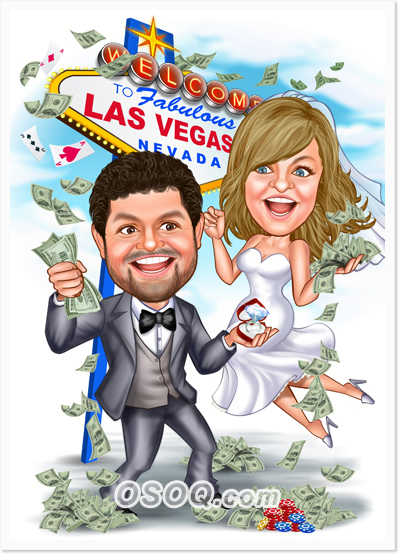 Las Vegas WeddingThe couple are having a wedding in Las Vegas. The husband is taking out a huge diamond ring for his wife.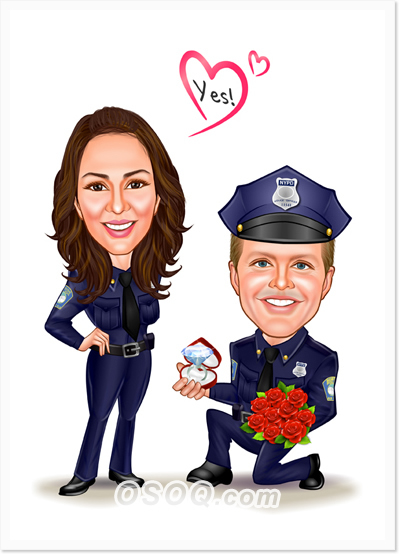 Police ProposingA policeman is kneeling down to propose to his girlfriend with a ring and a bouquet of roses.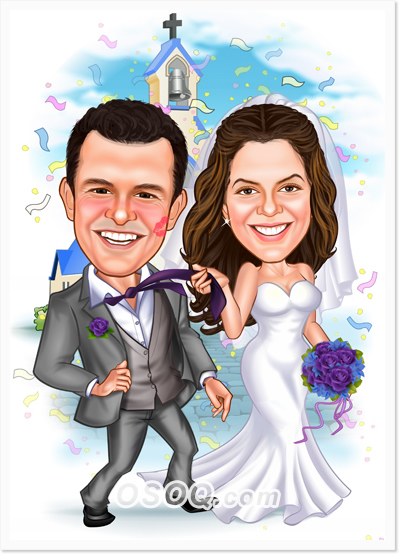 Church WeddingThe bride is pulling the bridegroom's tie and rushing to the church for the wedding.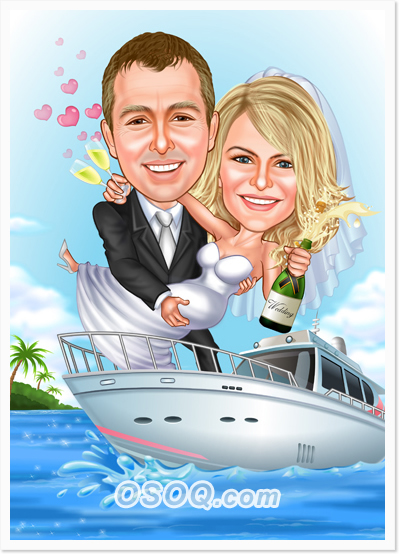 Wedding CelebrationThe newlyweds are celebrating by opening champagne on a yacht at sea.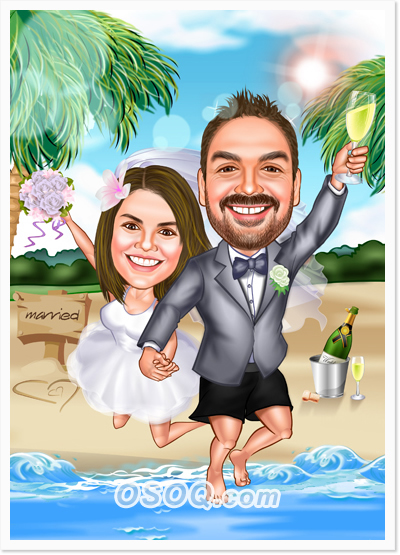 Happy CeremonyThe couple are wearing their wedding dress and tuxedo, jumping into the water.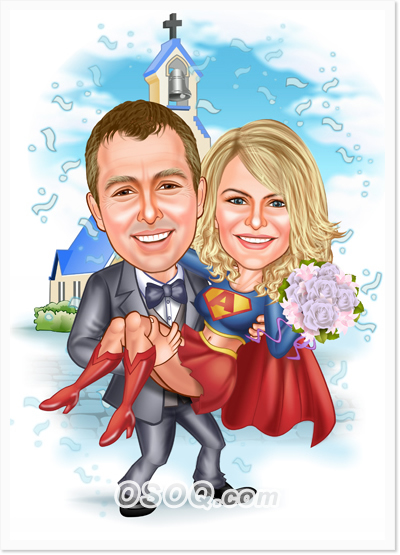 Church CeremonyThe groom is standing in front of the church with the superhero bride in his arms.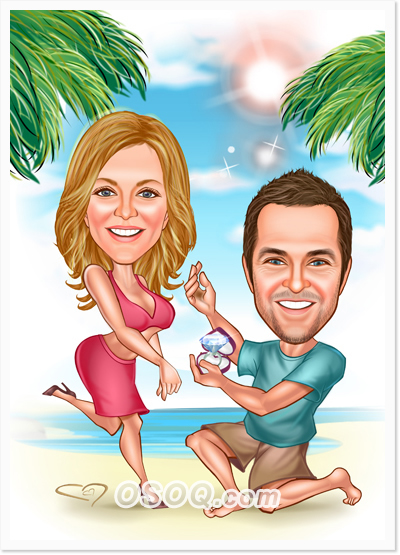 Seaside ProposalOn the beach, a man is kneeling and proposing to the girl with a diamond ring.
The Key Of Love And HappinessThe bride is walking towards the ceremony with a key, a bouquet of flowers and the groom in handcuffs.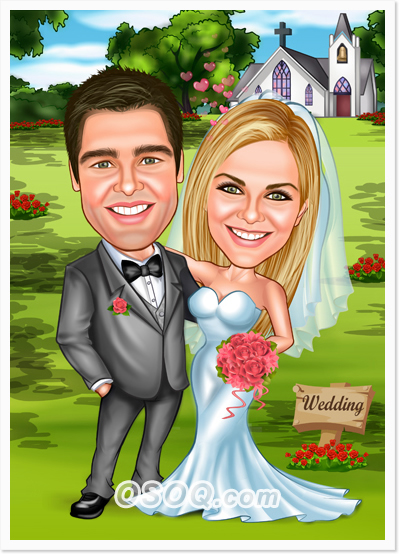 Country WeddingThe husband and wife are holding a celebration in front of the church in the country.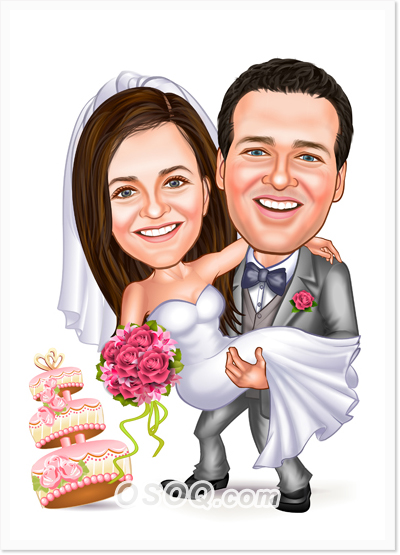 Wedding Couple CaricaturesThe bride has a bouquet of roses in the bridegroom's arms, next to a three-tiered cake.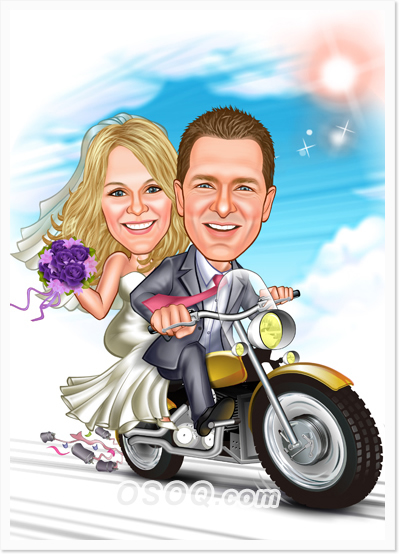 Wedding CoupleThe newlyweds are riding a motorcycle to start their honeymoon.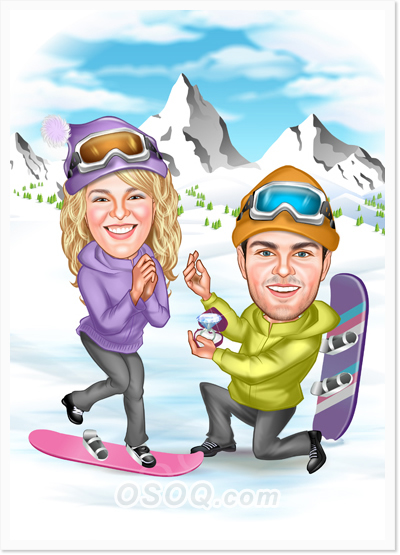 Engagement Proposal CaricaturesOn the snowy mountain, a boy is putting out a diamond ring and proposing to his girlfriend.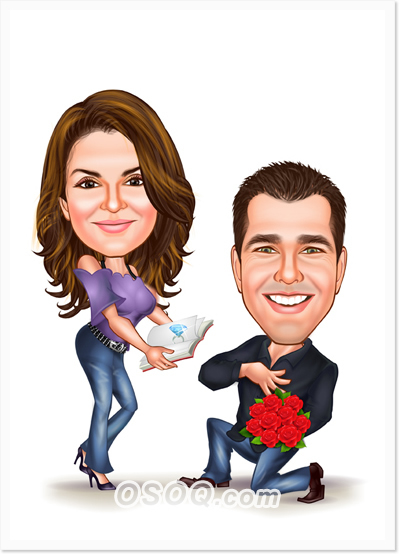 Engagement RingA man is holding a bouquet of roses and putting the diamond ring in a book to propose to the girl.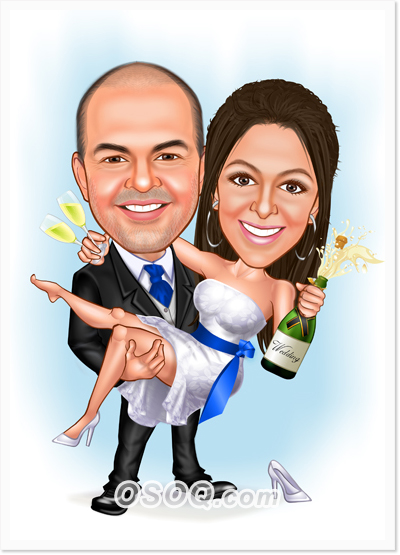 Champagne BottleThe bridegroom is holding the bride who is opening a bottle of champagne to celebrate.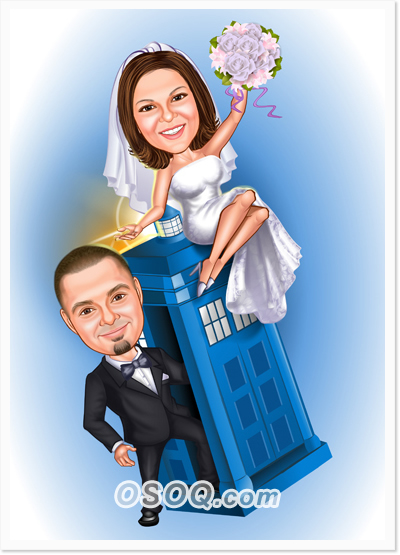 Funny Wedding CaricaturesThe bride is sitting at a time phone booth and watching the bridegroom being transported by time and space.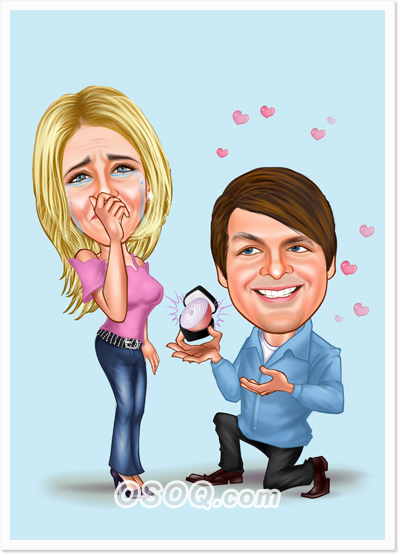 Funny Marriage ProposalsA boy is proposing with an onion. The girl is fumigated to tears.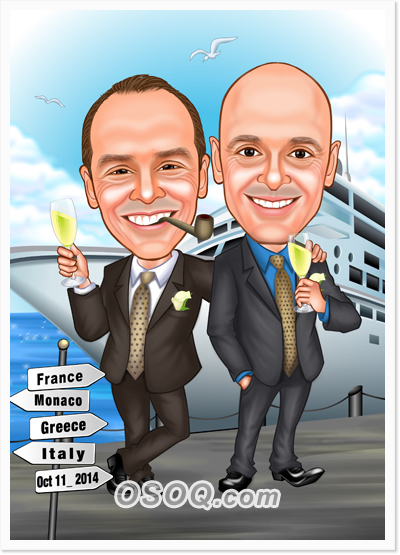 Homosexuality WeddingIn the harbor, two men are going on a cruise to honeymoon.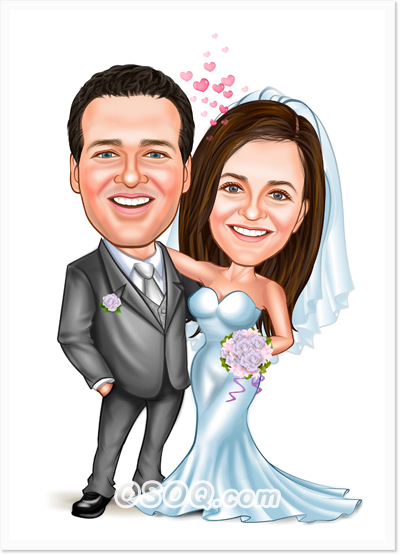 Wedding Gift CaricaturesThe bride is wearing a white wedding dress, with one hand resting on the groom's shoulder, smiling.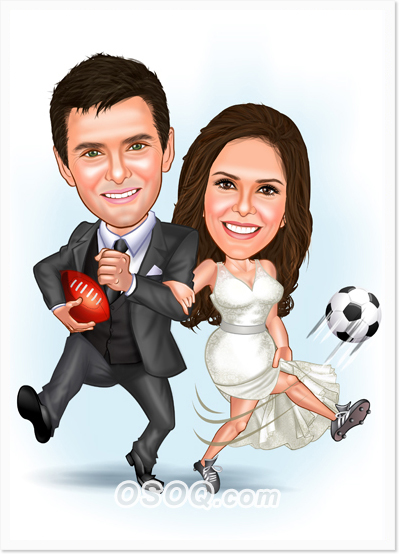 Groom And BrideThe bride is pulling up her wedding dress and kicking a soccer out.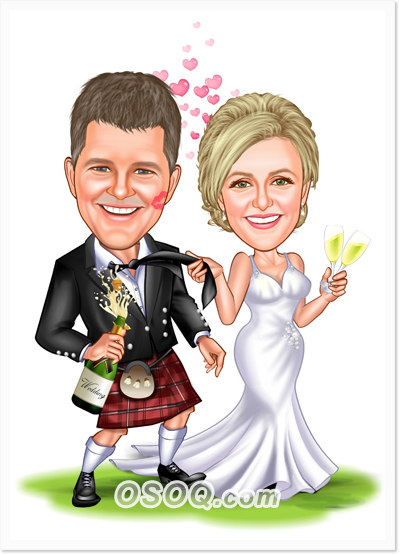 Just MarriedThe bridegroom, in traditional Scottish dress, is being pulled over by the bride.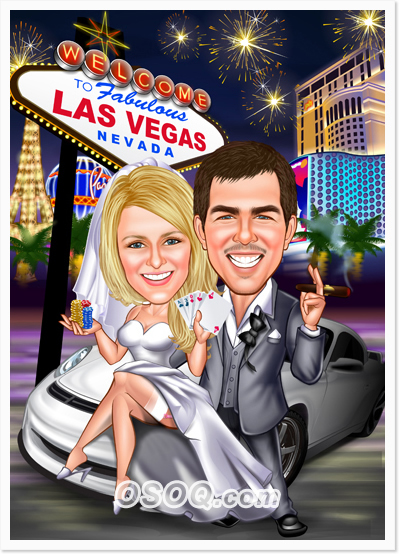 Las Vegas WeddingThe couple are driving a fancy car in front of a Las Vegas casinos.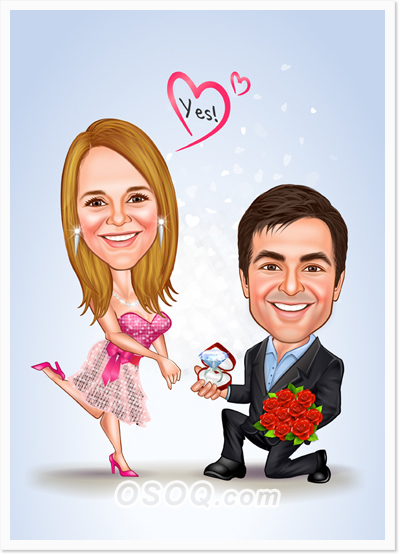 Marriage ProposalThe man is putting out a diamond ring to propose to the girl, who happily agrees.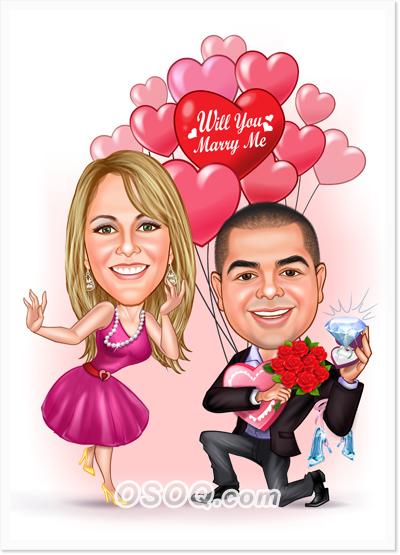 Wedding RingThe man is proposing with a diamond ring, crystal shoes, a bouquet of roses and heart-shaped balloons.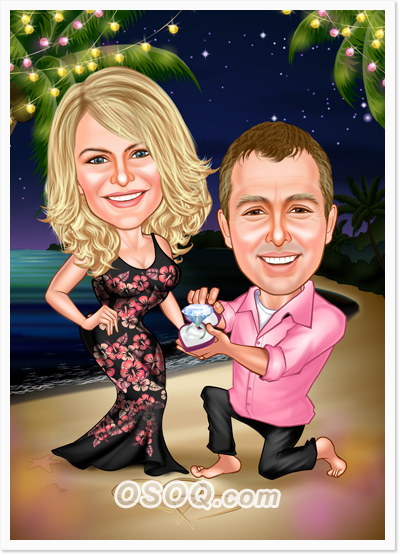 Proposal IdeasOn the romantic beach of summer night, a man is kneeling down to propose with a diamond ring.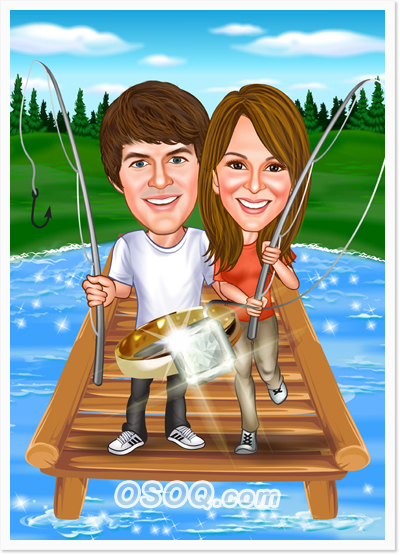 A Surprising RingThe young couple are fishing by the lake. The girl caught her surprise engagement ring.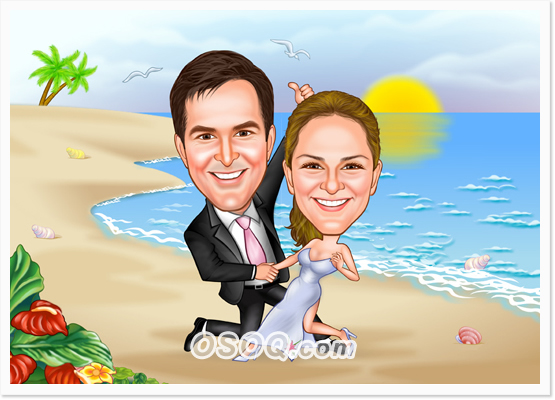 Couple DancingThe couple are dancing on the beach in the evening. The sun is setting slowly behind them.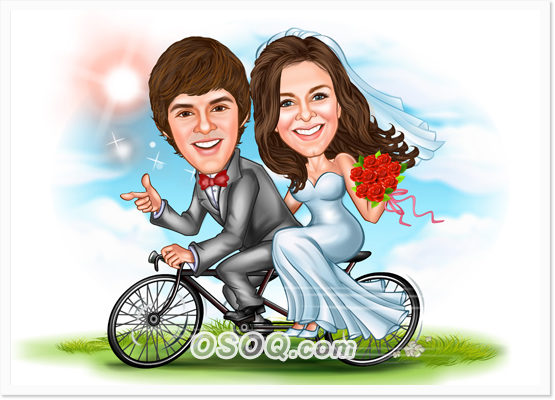 Wedding DayThe newlyweds are riding a double bike on their way to their honeymoon.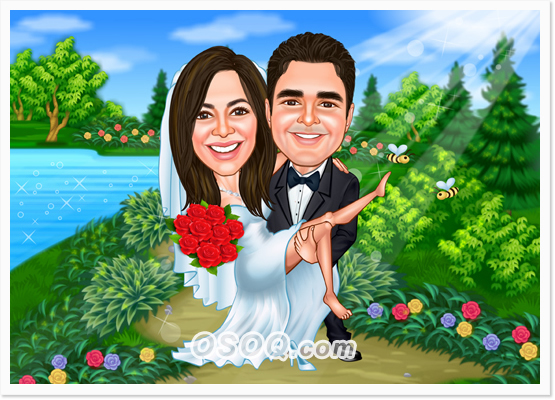 Beautiful Garden CelebrationIn a garden by the lake, the bride and groom are taking wedding photos.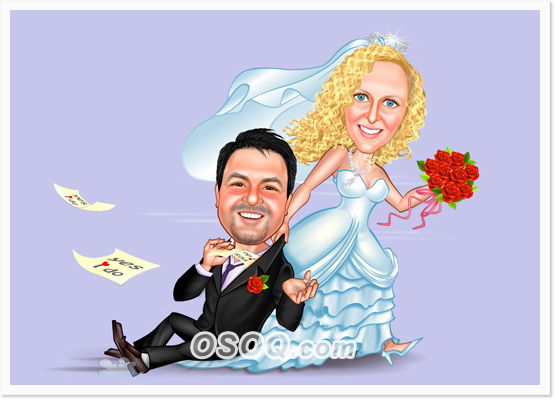 Rush To MarriageThe bride is dragging the bridegroom to get married. The bridegroom is sprinkling flyers that say "Yes, I do."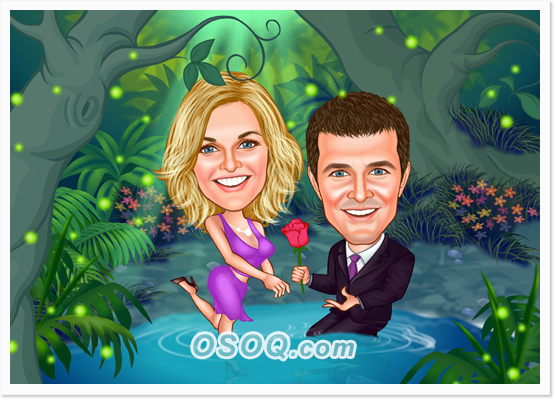 Fantasy ForestIn a quiet fantasy forest, a man is proposing to a girl with a rose.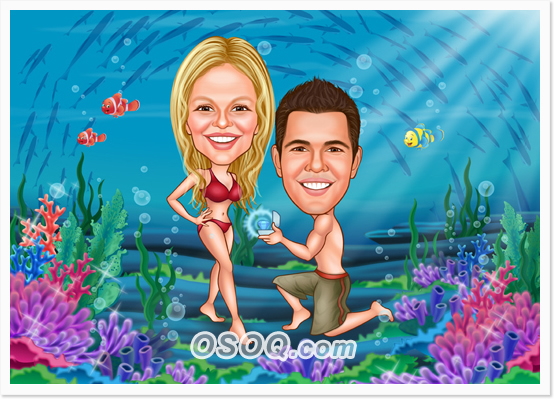 The Oath Of The SeaOn the sea floor covered with colorful corals, a boy is proposing with a diamond ring.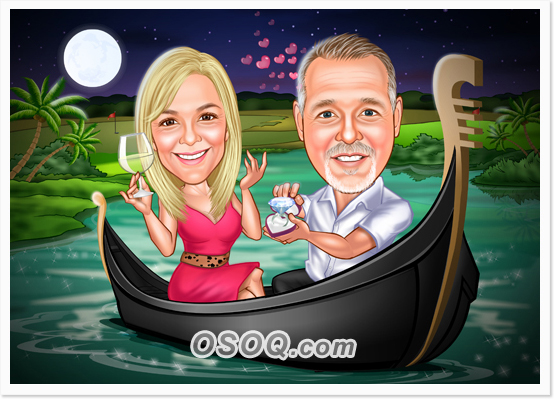 Romantic Proposal CaricaturesOn the moon boat in the moonlight, a man is proposing with a ring.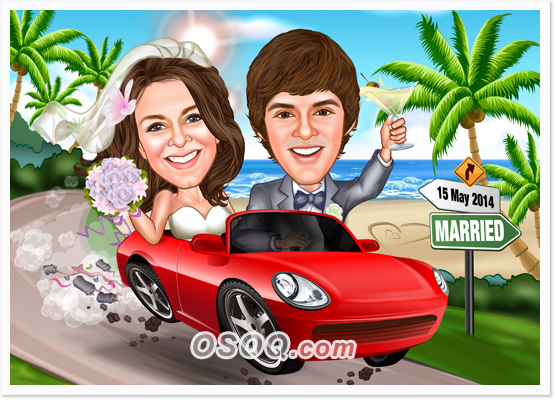 Beach Wedding CaricaturesA couple are driving a red sports car to the beach for the wedding celebration.
© Osoq.com | Wedding Caricatures